MIDCOAST MAINE FISHING REPORT 6/8
Things are heating up here in the Kennebec Watershed. We've found all sorts of bait around including young sand eels, juvenile herring, 4-6 inch herring, and mackerel.
That being said, water temps at the river mouths are still below 50. Fish aren't pouring into that cold water but there are some stripers in the river with sea lice on their scales. Finding warmer water above 55 degrees in spots with good current has produced fish on the topwater spook plugs and bigger streamers that imitate the herring. The fish that are here are fat and hungry. The outgoing tide has warmer water and more herring than the incoming. 
Timing is important for connecting with these bite windows, but when you dial it in there can be some really good action. Otherwise, there are fish cruising around the usual haunts. Any day now, more migratory fish will fill up the river and there will be all day blitzing, which makes for very fun fishing. Contact us to get on that bite!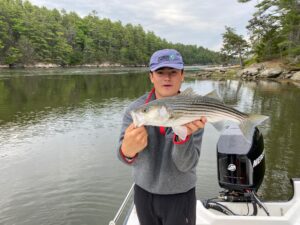 Inshore, midcoast Maine trout fishing is lights out for stocked brookies and browns.  Me and a buddy had a 40+ trout day on a certain river with streamers and dry flies. A size 14 BiVisible or Parachute Adams were cleaning up with the right drift. Waters are getting on the warmer side of trout temperature so make sure you bring a thermometer so as not to kill the fish you catch.